Enzyceuticals' Sustainable Goals
The 2030 Agenda for Sustainable Development, adopted by all United Nations Member States in 2015, provides a shared blueprint for peace and prosperity for people and the planet, now and into the future. Τhe 17 Sustainable Development Goals (SDGs), represent an urgent call for action by all countries in a global partnership.  Enzyceuticals already serves 12 (SDG 1-3, 6-9, 11-15) out of the 17 SDG's as they are defined, and we are eager to meet them all, in the years to come.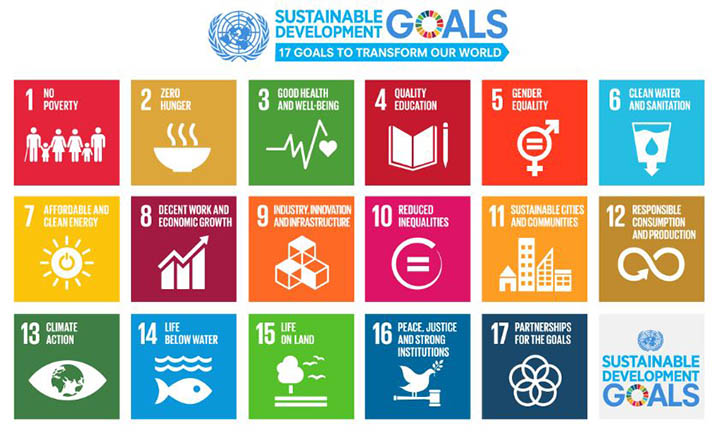 How Enzyceuticals contributes to a circular economy transition model:
Tackling the pressing sustainability needs will require the development and use of new and efficient technologies.
Biotechnology, can generate sustainable routes to chemicals and materials as alternatives to fossil-derived ingredients. 
Enzyme biotechnology plays central role in this sustainability movement, providing "Green Chemistry" technologies that drive sustainable solutions in products and industrial processes.
Enzyme biocatalysis is a key answer to sustainable movement and circular bio-economy era
Enzyme biocatalysis constitutes a sustainable approach for the production of bio-based products for various industrial sectors, including chemical, pharmaceutical and food applications.
Why Enzymes? Because they are:
Natural and safe biocatalysts,
Highly effective and specific,
Produced from renewable resources,
Readily biodegradable,
Controllable – their catalytic properties are adjustable and adaptable by specific molecules or conditions.
Widely accepted because of the customers' positive opinion for enzymes
Sustainability benefits:
Higher product quality,
Significant cost reductions,
Less energy consumption,
Minimum undesirable side effects,
Superficial waste disposal problems
Global macrotrends that impact our business
Enzyceuticals' growth and long-term success are influenced by global macrotrends that shape our innovation and operational strategies. Global macrotrends that impact the global increasing demand for enzymes:
Global need for accuracy, precision, specificity and sensitivity in industry – enzymes' action is based on biological affinity and molecular recognition phenomena that secure minimum side-effects, false results, by-products and ensure reliability and reproducibility
Energy transition – The global movement toward a low-carbon economy and the fight against climate change are triggering a major shift in renewable energy from biomass that can be addressed by enzymes
Transition to sustainable agriculture – the agricultural sector is seeing growing demand for new and innovative sustainable food production solutions that can be addressed by enzymes
Water scarcity – Global demand for clean water is expected to outstrip supply by 2030. A number of wastewater solutions that can be addressed by enzymes
Digitalization of the global economy – Bioinformatics, machine learning and artificial intelligence are indispensable tools that are exploited for mining and discovery new enzymes, for protein engineering, to improve production yields and recovery in downstream processing.